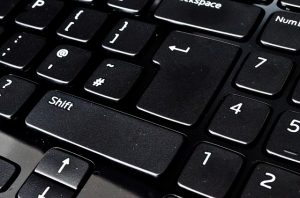 There are often multiple ways to accomplish a single task while working on a computer. Over time, users build up habits of doing particular tasks without realizing that there are more efficient ways of executing that same task.
Copying and pasting text is a common place where I'll see this happen. When working with teachers in a tech setting, I'll see them repeatedly go up to the Edit menu, scroll down to copy, click in a new location, scroll back up to the Edit menu, then select paste.
Keyboard shortcuts can save a lot of time here, and they are one of the quickest ways to get more efficient on a computer. To learn more, watch this beginner level video from Tech Savvy Tips that explains how the most fundamental shortcuts work on Windows and Mac computers. Then make it a point to learn the new habit of using keyboard shortcuts in your coming week!
For reference, here you go:
Windows
Control-C: Copy
Control-V: Paste
Control-X: Cut
Control-Z: Undo
Mac
Command-C: Copy
Command-V: Paste
Command-X: Cut
Command-Z: Undo