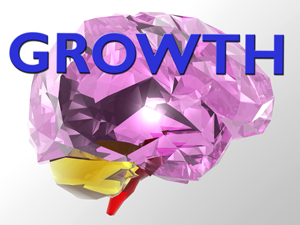 Mindset, or more accurately the differences between having a Fixed Mindset and a Growth Mindset, comes from the work of Carol Dweck. In many ways it represents both a way of thinking and a way of communicating. In short, Growth Mindset takes the approach that intelligence and skills are malleable, and that we can improve them through effort. Fixed Mindset takes the approach that skills and intelligence are, well, fixed, and unlikely to change.
The implications for education are profound. More and more research is emerging that highlights positive achievement and attitude benefits that arise from having a Growth Mindset, and from being in a learning environment that stresses a growth mindset.
As educators, language is a key conveyer of mindset. For example, if we tell a student, "You're smart!" you've in essence conveyed a fixed mindset viewpoint to the student. They succeeded because of inherent ability, not effort or study. The insidious implications of this arise when that same student doesn't succeed at a subsequent task and concludes: "Oh, I succeeded last time because of smarts, but now I've failed. I must not be good at this task, or smart enough." Carol Dweck's research shows clear negative consequences when fixed mindset language is used in educational settings.
A more effective approach in working with students is to use Growth Mindset language and thinking. Praising the learning process and effort involved in learning reinforces the notion that we rise through our efforts and not our innate ability: "I really like how you stayed focused and kept working at that task, and stuck with it even though it was challenging for you."
To get a better idea of what a Growth Mindset is, watch this short video that contrasts Fixed Mindset with Growth Mindset.