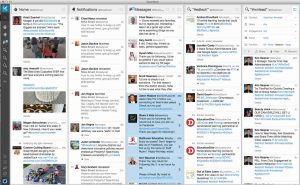 If you've been using Twitter for a little while, you might be interested in making Twitter work a bit more easily for you. The regular Twitter site, if you access Twitter on a laptop or desktop, is quite limited, and there are a number of free programs available that can make using Twitter easier and more efficient. In this tech tip, I take a look at TweetDeck, which is a powerful application for managing Twitter content and feeds.
To learn more, watch the short video below. Enjoy!
Link: TweetDeck info and download.