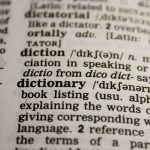 Did you know that Google has a handy dictionary feature built in to its search bar? That's right! No need to have students go hunting around the classroom for big old paper dictionaries. Just use the search bar to accomplish the same result.
To learn the details, watch this 1-minute video:
Want to learn more about Google Searches, earn CEU Credit, and meet the Minnesota technology relicensure requirement for teaching? Take our Google Mojo course!